Credit – britannica
Tennis is a sport many people adore. A tennis tournament is special for sports freaks. Serena Williams is a name that occurs to the mind instantly when people think of a female tennis player. It is a name, we grew up hearing. I remember watching her knocks with my father, and me struggling to understand the counting in tennis. Serena Williams has contributed to the game that the height of women's tennis leveled up globally. Her unwavering dedication and passion for the game have raised the bar of women's tennis. In this article, we will have a sneak peek into her personal and professional life.
Family Support was her Strength:
Serena has ruled the sport for the past two decades. Support from both parents to play tennis was granted to William's sister. By profession, her father, Richard Williams, was a tennis coach. So he wished his daughters would play the sport too. Serena Williams is a proud holder of the second most successful player of all time. She grew up in Compton and was staying in a two-bedroom home with six other siblings.
The Inspiring Journey:
A sportsperson's journey is tough and demands high resilience. A sportsperson has immense discipline and devotion towards the sport he/she plays. The same was true with Serena Williams. She has had her fair share of defeats which also included injuries and personal problems. Defeat or losing were words unknown to her. Despite the physical ailments and personal issues, she went through it all like a champion and came back stronger than ever. Let's have a quick look into her professional journey: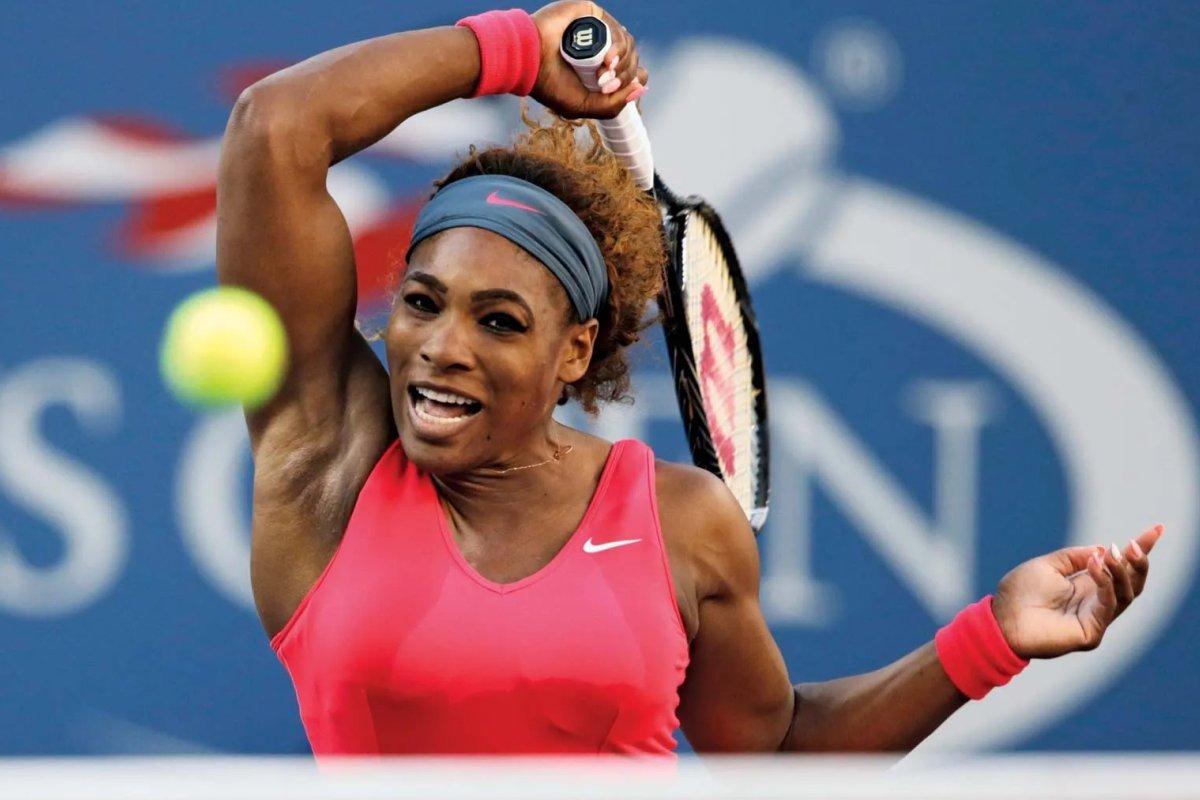 Wasn't a cakewalk:
A 14-year-old Serena's professional debut was in October 1995. Serena Williams lost her first round at the Bell Challenge in Quebec City. The next year in 1996, she made her Grand Slam debut at the 1996 US Open, again facing defeat. Her parents advised her to wait till She turns 16 to go fully professional. The grit and passion she possessed for the game led her further. In the year 1997, at age 16, Serena and her partner Max Mirnyi won the Wimbledon mixed doubles title. Together they defeated Martina Hingis and Stefan Edberg in the final.
It was a humongous achievement for Serena Williams. Media attention caught her and gave her the fame she deserved via interviews and cover photos in magazines. But fame brought criticism too, for her. Serena was accused of playing fixed matches in support of her father. The criticisms were proven fake but left a scar on her mental health. The following year she lost to her sister Venus and suffered an injury too, which led to a downfall in her career graph.
Comeback defying all odds:
Serena's parents decided to get divorced in 2002. Her half-sister Yatunde Price was murdered when at a shooting in Compton the next year. Yatunde was her assistant and shared a close emotional bond with her. Physical anguish and untouched mental problems started peeking out too. For some "me time" Serena Williams took a charity trip to Africa on purpose. Africa was an underdeveloped country and Serena wanted to witness what and how people suffer there, only to realize how fortunate she is.
She also decided then to use her public image to voice for color discrimination that goes on throughout the world. In 2008, with coach Mackie Shilstone, Serena was back on the tennis grounds stronger and full of grit. It resulted in her winning at the Beijing Olympics and several other following tournaments.
Back to Original Form:
In 2009 at the US Open, Serena's anger came her way. She was fined for verbally abusing and throwing her racquet while screaming at a line judge. Serena was suspended for two years, and she came stronger back in 2010. But Serena was again diagnosed with pulmonary embolism in her lungs which led her to undergo medical treatment compromising her game. In 2012, she won two gold medals at the London Olympics, at age 31.
This is the age when tennis players think of retiring, while again at age 33, Serena won her 20th Grand Slam victory. She rose to be awarded as the "Sportsperson of the Year" by Sports Illustrated. Serena Williams was the first woman to get this award since 1983. This marked her indication of being a champion both on and off the court.
Greatest Knocks:
Serena Vs Nadia Petrova, Round 3 Australian Open 2007
Serena Vs Timea Bacsinzky, 2015 Roland Garros Semi-final
Serena Vs Maria Sharapova, 2005 Australian Open Semi-final
Serena Vs Svetlana Kuznetsova, Roland Garros 2013 Quarter-final
Serena Vs Justine Henin, Australian Open 2010 Final
Some Facts about the Legend:
Serena Williams is not just a name, it's an emotion. For tennis enthusiasts, here are some interesting facts that are lesser known about the legend. Not only a sportsperson, a philanthropist, a fashionista, a fitness symbol, a brand endorser, a social activist, and a television guest star. Born on 26 September 1981, Serena Williams holds more grand slam titles than any other player. Here are some more interesting facts to go through:
Serena Williams is the only tennis player in history (man or woman) to win singles titles at least six times in three of the four Grand Slam tournaments (Australian Open, Wimbledon, and U.S. Open).
She was holding world no.1 ranking for 6 years consecutively.
From 2002 to 2003 and from 2014 to 2015, Serena achieved the rare maneuver of holding all four grand slam titles simultaneously.
Serena is the only player to achieve a golden career grand slam in singles and doubles.
Serena and her sister Venus collectively have won 14 grand slam doubles titles and remain unbeaten in the slam doubles finals.
Ellen Roosevelt and her sister Grace became the first pair of sisters to win the US Open tennis championship. Then a century later in 1999, Serena and Venus equaled the achievement. Both these 2 pair of sisters share a lot of such things in common. Like birth dates, age gaps, and shared numerology too.
Serena Williams indulges in a lot of charity. She has contributed to many causes like building schools for underprivileged children, spreading awareness about breast cancer, and raising voices for color discrepancy which occurs constantly.
English being her native language, Serena Williams can speak Italian, French, and Spanish too.
Serena has been playing tennis since she was 3 years old.
Serena runs a non-profit organization, 'The Serena Williams Fund', which provides facilities to schools in Jamaica, Uganda, and Kenya.
A Woman of Heart:
Charity is a thing Serena Williams has a huge heart for. She is a UNICEF Goodwill ambassador. Being a woman of a golden heart, she realizes the importance of giving back to society. In 2010, the tennis star announced Unicef's new Schools for Asia campaign to educate 26 million marginalized children in the countdown for a goal. The goal was Millennium Development with a deadline of 2015. Along with this, other causes supported by her are:
African schools
Elton John Aids Foundation
Serena Williams Secondary School, Kenya.
Serena raises her voice against black-and-white color discrimination.
Along with her sister, Venus Williams, she raised her voice against victims of violence. The resource center is named after her half-sister the late Yatunde Price.
Admirable Qualities of Serena Williams:
Competitive Spirit:
Serena has influenced athletics all over the world. She succeeded in becoming the best and the most influential player of her time. For other aspiring women athletes, irrespective of the sport they play, her competitive spirit is one to keep a watch for. Striving for the best at all times, she has made a name for herself.
Calm attitude:
A sportsperson needs to maintain his calm and make conscious strategies about the game. Not only on-field, off the field too, when you're such a great player, people are constantly monitoring your actions. Serena has these qualities perfectly imbibed in her. Her grounded and inspirational attitude has made her reside in people's hearts. The audiences, in general, have a lot of memories of watching her play on television while some got the privilege of watching her play live.
Benevolent & gritty:
Serena is a benevolent personality as she has kept the hardships faced in her conscience. She hasn't forgotten her roots. Realizing she is a public figure, that too an influential sportsperson, she indulges in a lot of charity work. From violence against women to building schools for children, she looks into all. A golden-hearted woman, who inspires many more aspiring and talented women out there.
Knows her priorities:
All of us have witnessed Serena playing against her sister Venus Williams. The devotion Serena has for the game is depicted when she plays against her sister. She knows her priorities straight. Playing with the same competitive spirit even when you play against your sibling is a thing to adore about her. In-court etiquette is a high priority for her, no matter who you're playing in front of. The world needs more Serenas, isn't it?
Achievements: A Never-ending List:
Serena Williams is the most celebrated tennis player who people will not forget soon. She won her first-ever Grand Slam title at the age of 17. She was playing against Martina Hingis. She has achieved everything that ever existed to achieve, even post-motherhood. It didn't stop her from playing and living her passion. Her strength was being an aggressive baseliner which allowed her to play the strokes she desired and were her best.
The list of her achievements is worth a read:
6 time US Open singles championship (1999, 2002, 2008, 2012, 2013, 2014)
6 time Australian Open singles championship (2003, 2005, 2007, 2009, 2010, 2015)
7 time Wimbledon singles championship (2002, 2003, 2009, 2010, 2012, 2015, 2016)
3-time French Open singles championship (2002, 2013, 2015)
6 time Wimbledon doubles championship (2000, 2002, 2008, 2009, 2012, 2016)
4 time Australian Open doubles championship (2001, 2003, 2009, 2010)
2-time US Open doubles championship (1999, 2009).
2-time French Open doubles championship (1999, 2010).
As we said the list goes on and on. Serena Williams is considered the epitome of success for female players in tennis. She is considered the best server in the game. Her habit of crossing the double digits in her ace count during a match is a rarity in the case of women's tours.
Conclusion:
Serena Williams is a legend in her career. She is remembered fondly every time her name is mentioned anywhere. Her remarkable journey, relentless determination, and excellence have pushed her to the highest achievements in the game. Serena's resilience and her trailblazing efforts towards raising a voice for gender equality have left an irreplaceable mark on the world.
Serena Williams exemplifies the true spirit of being a champion, both on and off the court. Her legacy will always be remembered for years to come, serving as a symbol of empowerment, inspiration, and a testament to the boundless possibilities of human potential.
Also read: Women In Sports: Challenges, Triumphs, And The Road To Equality