An eye-catching shop front is essential for attracting customers. While it's becoming more popular for customers to discover stores online via search engines and GPS, most stores still get a lot of their foot traffic from passers-by spontaneously wandering in. Below are some of the different ways in which you can get your store noticed by these passers-by.
Here are some shopfront ideas to get more traffic:
1. Opt for an open shop front
Getting rid of the entire front of your store can put your interior on full display and encourage customers to walk in freely. Such open shop fronts are common in malls, where you don't have to worry about rain or wind getting in. Shops facing directly onto the street can also have an open shop front, but you have to be more careful about the weather. To prevent wind or rain damaging your wares, it could be worth having the option of a sliding door. Roll-down shutters can also be used for security outside of opening hours – both for stores in malls and stores facing onto the street.
2. Choose frosted/tinted windows for mystery
Closing off your store completely may seem like a bad marketing move, but there are times when it can actually have the opposite effect of enticing customers' curiosity. This can be particularly the case in busy high-traffic areas where people are already actively window shopping. Frosted glass or tinted glass could help let in sunlight while preventing outsiders from seeing what's inside.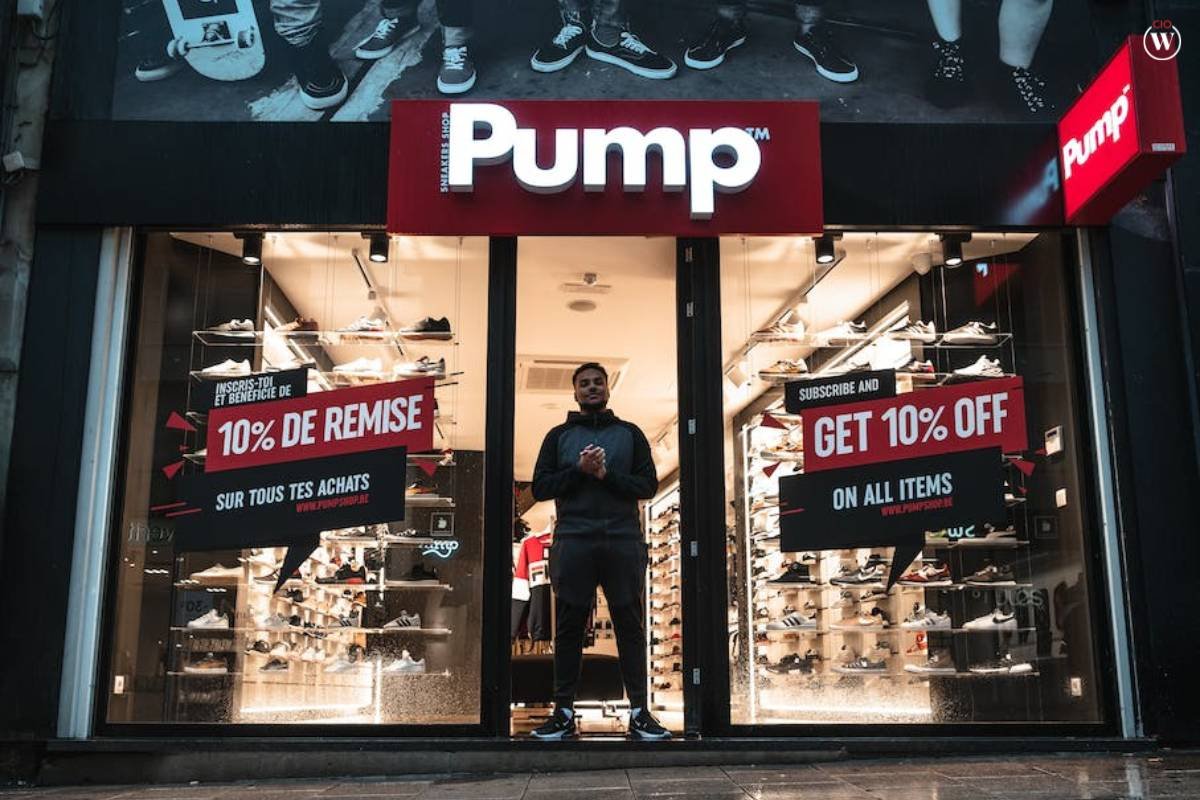 You could offer small transparent cutouts for people to take a peek, or keep the entire inside hidden from view. Either way, you'll get people interested (although salient signage is still needed to make sure that people know your store is there). Such glass is particularly recommended for stores where privacy may be important.
3. Illuminate your signage
Illuminated signage can help your store to stand out in all weather at all times of the day. There are various different ways to illuminate a sign, which are worth exploring. Lightbox signs are the most common type of shop signage and involve a four-sided box with lighting inside with letters made from a translucent material so that the light shines out.
There's also the option of front-lit and back-lit illuminated signs – front-lit signs are some of the brightest, while back-lit signs can have a more atmospheric look. Neon signs are also an option for a touch of retro (most modern neon signs are actually made from LEDs as opposed to neon, as this is safer and more energy-efficient).
4. Use a projector sign
Using a projector, it's possible to project your store name or logo onto the sidewalk. This can be a fun way to make your store stand out after dark if you are opening late in the evening. You could even look into moving projector signs that cause the projection to move across the sidewalk to help further attract attention.
5. Choose a bold color
Painting the exterior of your store a bold color is another shopfront ideas to get noticed. Think about what color the stores are on either side of you and choose a color that contrasts this. Make sure the color is relevant to your brand and that it has the right connotations. For example, black suggests seriousness and sophistication, while white suggests fresh ideas and minimalism. Red promotes action and impulsive decision-making, while blue is calming and promotes relaxation. Pink is typically feminine and cutesy, purple is mysterious and offbeat, and green is peaceful and earthy (just to give a few other examples).
6. Preserve some vintage charm
If you sell products that are traditional or rustic in some way, a vintage look could be a great shopfront ideas to make your store stand out. This style is particularly great for stores located in historic buildings, as it can help to preserve some of this historical charm. What are some features of vintage shop fronts? Many vintage storefronts are painted in deep colors with painted stencil letter signs. Promotions written on chalkboards and stripy awnings are other popular vintage storefront features.
7. Get creative with cladding
Cladding can also be used to help your store stand out from its neighbors. Different materials and textures can create different looks. Timber, brick and stone cladding for example is very rustic and is ideal for stores that want to give off a historic, hand-made or natural vibe. Metal cladding on the other hand such as corrugated steel cladding or ACM panel cladding can give off a more modern and industrial look. Various other materials can also be used ranging from concrete to vinyl to create all kinds of effects.
8. Embrace video displays
Adding a video display to your shop window is certain to turn heads. LCD screens come in many different sizes and can be used to advertise your products in an exciting and modern way. The videos displayed could be as simple as a slideshow or recorded footage of your customers or your products being made.
9. Set a scene with your window display
A great window display is another tried-and-tested shopfront ideas to get your store noticed and generate customers. Setting a scene using your products can be a fun way to promote your wares. You could help to promote a better lifestyle for your customers by arranging mannequins into scenes using your products. Alternatively, you could create more surreal or abstract window displays. Seasonal displays are also great for constantly freshening up your shop front (the most obvious being Xmas displays).
10. Showcase your most striking products
When it comes to choosing the right products to advertise in your shop window, there are many different shopfront ideas and strategies. Some store owners try to promote their most popular products, while others promote the less popular products in an attempt to help sell them. However, when it comes to grabbing people's attention, it's often better to focus more on the products that are visually striking rather than thinking about what sells well and what doesn't sell well.
Strange and unique products can catch customers' attention and make them curious about what else may be inside. Luxury products will also get people looking at your store – even if few people can afford these products, customers will take note and may be curious to see what else you sell.