Since 1950, the number of people living in cities has almost doubled, rising from 751 million in 1950 to 4.2 billion in 2018. It presents several issues in managing densely populated metropolitan regions. Making the Rise of IoT in smart cities is the answer.
It may seem to be a futuristic concept, but owing to Internet of Things (IoT) technologies and other developments, they are now being implemented. What technologies are used in smart cities, and how quickly will they grow? Continue reading to discover.
What exactly are smart cities?
Smart cities, also known as digital cities, intelligent cities, or wired cities, are technologically advanced metropolitan regions that collect electronic data from citizens, assets, and gadgets to more efficiently manage available resources.
A smart city's primary goal is to optimize and encourage more economical and sustainable development. At the same time, it enhances the quality of life for residents via the use of smart technology and data analysis. For example, by making municipal services more accessible, such as online transaction portals, free public Wi-Fi, real-time information, and services and events viewable through mobile applications.
According to Statista, smart city infrastructure is predicted to produce more than 40% of total smart city revenue by 2025.
Technologies for smart cities
In smart cities, information and communication technology (ICT) is used to improve operational efficiency, transmit knowledge to the public, and improve the quality of public services and citizen welfare. Several software, communication, and interface networks link smart cities. The Rise of IoT in smart cities is the most widely used technology for correctly operating digital Time because it enables connection and data sharing between things.
Some prominent smart city technologies include:
Services for cloud computing
Application Programming Interfaces for Machine-to-Machine Communication (APIs)
Wi-SUN Dashboards are examples of mesh networks.
The use of technology solutions in European smart cities is included 'to enhance the management and efficiency of the urban environment'.
Rise of IoT in smart cities
As previously said, the Rise of IoT in smart cities idea is founded on the adoption of Internet of Things technology, implying that smart cities and IoT are inextricably linked. Sensors and cameras, for example, enable IoT devices to gather data on many aspects of people's lives.
Everything in wired cities is networked, from automobiles, buildings, and household appliances to sensors, Rise of IoT in smart cities and smart grid technology, enables power distribution, increased integration of energy sources, and enhanced management systems. Citizens may also interact with smart cities via their cell phones, linked automobiles, or residences. Combining devices and data enhances sustainability and reduces expenses, benefiting not just inhabitants but also the environment.
Smart city and sustainability
Communities may utilize IoT to distribute energy more effectively, speed up garbage collection, reduce traffic congestion, and improve air quality. Sensors, for example, might be fitted to garbage cans to measure how full they are and more efficiently plan disposal. Another example is the usage of sensors linked to traffic signals to reduce traffic congestion. The data from sensors and moving vehicles allows for real-time changes in the timing and cadence of their lights in response to traffic.
A municipal charging point for electric vehicles. The charging station and concept automobiles were all designed in 3D.
The feature of a sustainable environment is critical for popularizing the notion of smart cities. Incorporating energy sources and efficient transportation systems, such as EV automobiles or bike-sharing programs, are examples of how to promote sustainable mobility. The data collected by these devices is stored on servers or in the cloud to enhance the efficiency of the public and commercial sectors, improve citizen lives, and provide economic rewards.
Smart city challenges
Smart city development is a practical solution to improve urban living conditions. Smart cities have the potential to shape urban life in the future by optimizing municipal operations, reducing environmental impact, and increasing inhabitants' quality of life.
But, smart city development is not without challenges. The most serious problems are privacy and security vulnerabilities, particularly when collecting and analyzing enormous amounts of data. Moreover, owing to the substantial expenses involved with adopting and maintaining smart city technology, not all municipalities have the financial means to participate in these initiatives.
Another difficulty is that the government has agreed to foster extensive public engagement. Moreover, for everyone to have a beneficial influence on the neighborhood, the business and governmental sectors must work together with residents.
It is also a test for IoT devices, since it requires hundreds, if not millions, of linked devices to communicate and work with it.
Incorporation of edge & cloud computing
To address some of the issues raised above, the high-level connection must be maintained via the use of tried-and-true devices. Fortunately, some corporations are supporting the growth of smart cities and providing solutions.
For example, using edge computing by multiple IoT devices to boost security is a common method. It ensures that only the most relevant and crucial data is sent through the communication network. A security system is also put in place to protect, monitor, and govern the data Rise of IoT in smart cities, as well as to prevent unauthorized access to the city's data platform's IoT network.
Seeed studio environmental monitoring architecture
Seeed studio focuses on enhancing environmental monitoring by providing system integrators and service providers with trustworthy edge computing solutions. Their objective is to develop and offer best-in-class solutions and services to provide edge computing power to sectors such as Industry 4.0, infrastructure, smart cities, smart agriculture, and others. Human-machine interfaces (HMI) to edge computing servers are all included.
The Odyssey Blue J4125 is a quad-core 2.0GHz CPU with 2.7GHz bursts based on the Intel Celeron J4125 that is ideal for a next-generation modular computer. A built-in ATSAMD21 Core, an ARM Cortex-M0+ MCU that allows Arduino programming on an x86 architecture, is also included.
Another Seeed Studio product is the reServer, which is built on an ODYSSEY X86 v2 board and provides powerful CPU and AI performance for a range of applications. It has two fast 2.5-Gigabit Ethernet ports and supports 5G, LoRa, BLE, and Wi-Fi hybrid connections. Because of its small size, reServer can work efficiently in almost any environment. The reServer's neat design also allows you simple access to the PCIe slots, RAM, and hard drives for rapid installation, maintenance, and upgrades.
Phoenix Contact digitization
Phoenix Contact's highly integrated and networked information and communication technology is assisting in the methodical transformation of urban regions into the Rise of IoT in smart cities. Phoenix Contact is developing devices with AI characteristics that will improve people's lives.
For example, using the Phoenix Contact smart city box, you may gather sensor data and transmit wireless data. Because of open system designs, the box may be readily incorporated into municipal data centers or other IoT systems.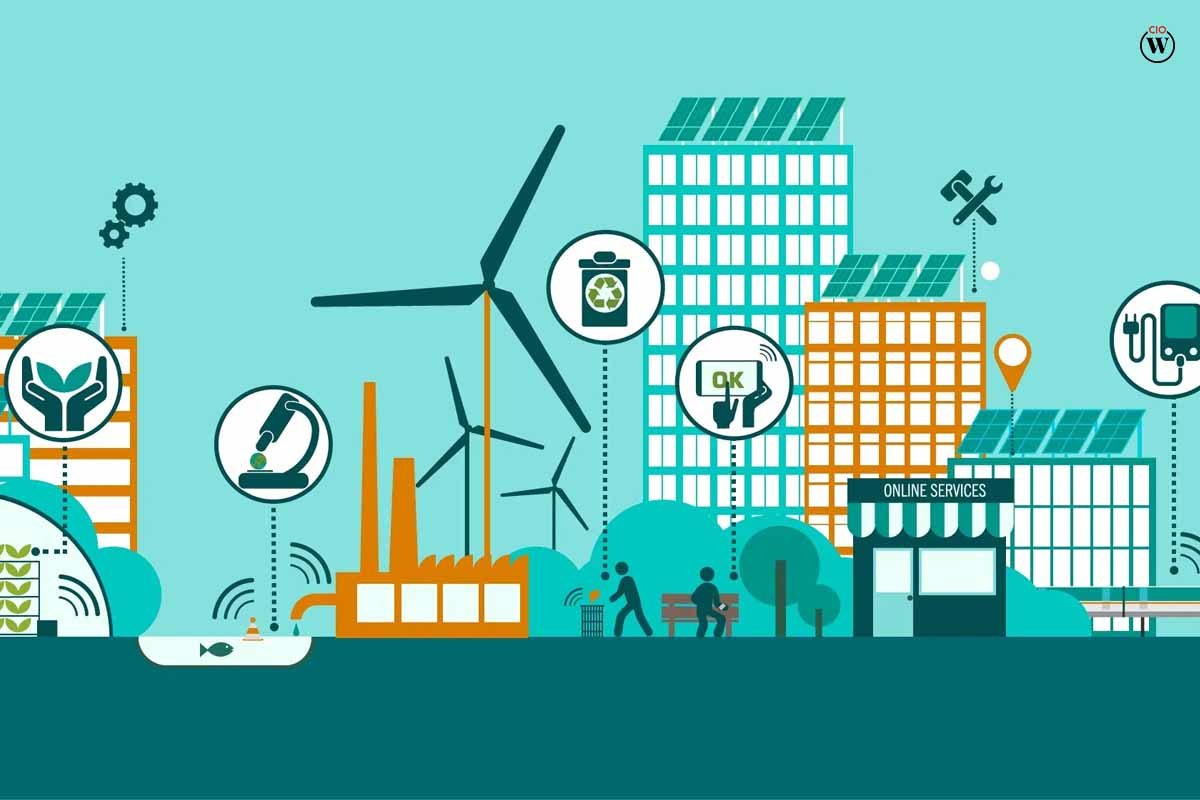 Moreover, PLCnext control devices that may be included in the ecosystem's hardware enable the anonymous transfer of processed image data in the cloud. Long-term, this will allow for the optimization of the city's traffic flow using optical sensor technologies such as vehicle counting.
Additionally, solutions such as remote maintenance in industrial remote communication will be critical in smart cities in terms of public safety. Through the use of Internet technology, metropolitan areas will be able to be observed from any place at any time via linked devices and systems. See our article on 'AI and Machine Learning in Cybersecurity and Industrial Security' for additional safety information.