Due to its great demand, ingenuity, and endearing manner of expressing anything, animation is now capturing the attention of a large number of people. There are many distinct kinds of animation, each with its own set of merits, applications, and imaginative potential. Some examples include animated computer graphics, animated stop-motion, and animated Silhouette drawings.
However, it's simple to begin working using Best Animation Software for Beginners. Because of the availability of millions of courses on websites like Udemy, Coursera, etc. It is true, though, that just watching the videos won't equip you to put them into practice successfully. To get from zero to hero in animation, you need to use applications and software to practice your craft and chart your progress.
Here are the 10 best animation software for beginners;
1. Saola Animate
With Atomi Systems' Saola Animate, you can easily create HTML5 animations and interactive web content. If you want to improve your website's interactive responses, Saola Animate is where it's at.
Creating HTML5 animations is a breeze with Saola Animate thanks to its intuitive editor and straightforward UI. Using a keyframe-based animation framework, it simplifies animation in ways that were previously impossible. A property animation's keyframes consequently define its initial and final states. Using these different values, Saola Animate generates a gradual transition in that characteristic over time.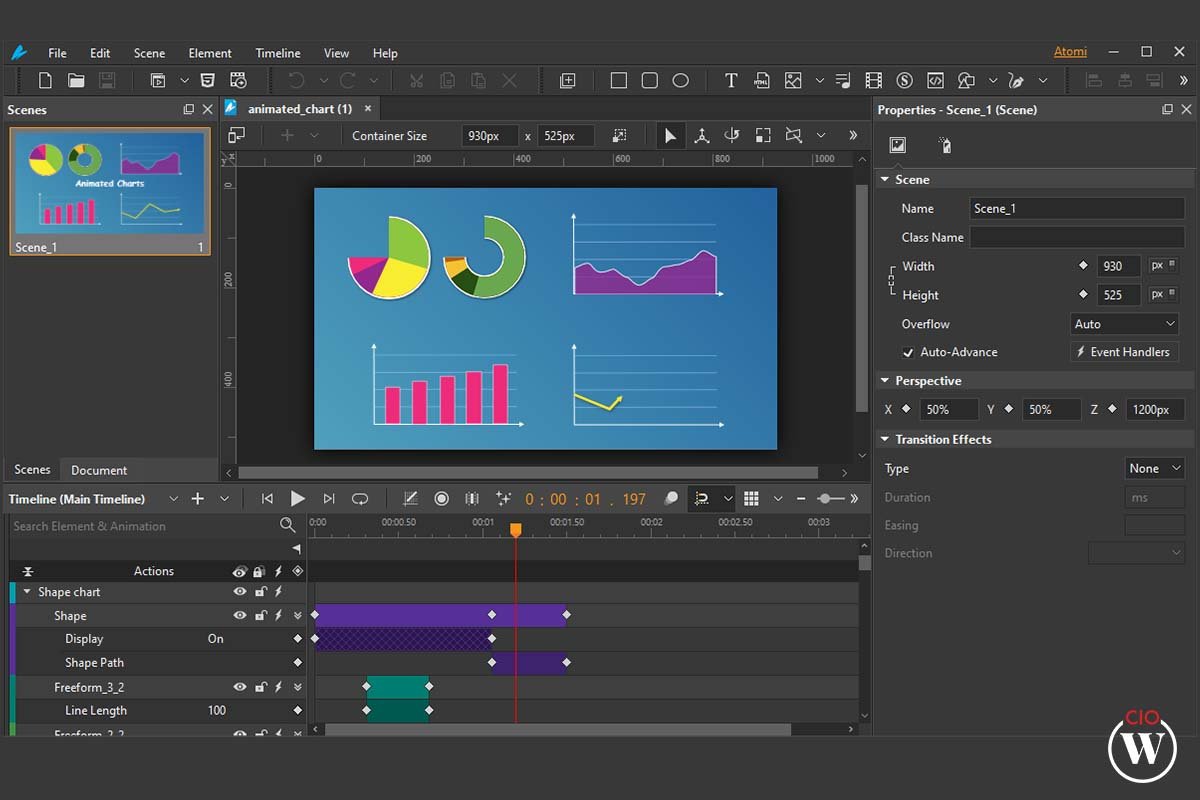 Keyframes may be created automatically using auto-Keyframes in Saola Animate, and the program also includes a number of premade effects. More than that, however, you may now do tasks quickly and effectively because to their skills. Saola Animate is also unique in that it is one of the few 2D programs that can be used to make 3D animations. Create everything from responsive banners and mini-games to dynamic presentations with Saola Animate.
Best Animation Software for Beginners for animating that is easy for beginners to use – Unlike competing animation programs, Saola Animate's 30-day trial includes access to all of its features.
2. Adobe Animate
If you need a vector-based product that is easy to use even for beginners and works well for projects that span several platforms, Adobe Animate is your best bet. This program has a number of useful capabilities, including raster support, audio/video embedding, high-quality text, and scripting.
Video games, TV programs, websites, and mobile applications are just few of the mediums where Best Animation Software for Beginners may be used. Once known as Adobe Flash, a now-defunct software, the name has changed.
3. MOHO
MOHO is powerful 2D Best Animation Software for Beginners that helps you bring your ideas to life. The program comes in two flavors: MOHO DEBUT and MOHO PRO. "moho debut" is designed to be used by novice animators, hence it offers a simple interface and pre-built features. It's all there in MOHO PRO, just as it was in MOHO DEBUT. Additionally, it offers great skills that will let you make top-notch animations. It's also useful for making commercial animation, cartoons, and movies for brands.
4. Maya
Best Animation Software for Beginners, Maya is a professional-level animation and 3D rendering program that can handle any project. It has several applications, such as in the film and television industries and in the creation of special effects for use in video games.
Maya's Node graph design ensures animation versatility by enabling the tweaking of individual features of objects and scenes. Maya, a high-end and meticulously developed animation tool, has been utilized in a number of blockbuster films.
Although there is a bit of a learning curve, Maya is the best Autodesk animation application for anybody serious about getting into animation or visual effects creation. Maya is rather expensive in comparison to other animation programs currently on the market. The tools are fantastic, especially for newcomers and intermediates.
5. Pencil2D
If you want to create conventional 2D cartoons, Pencil2D is a great free animation application to use. This Best Animation Software for Beginners is straightforward and suitable for novice users. The intuitive layout and simple design of Pencil2D make it simple to learn and use.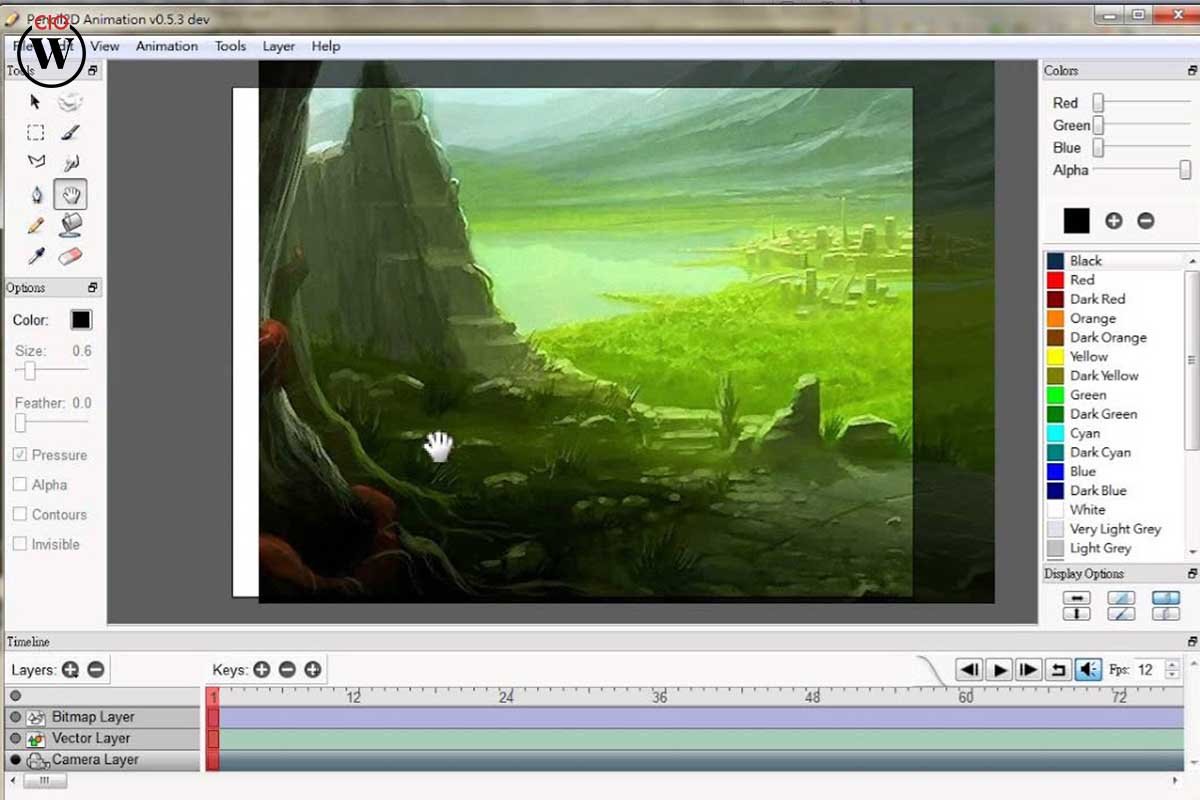 To help you get the most out of the Best Animation Software for Beginners, we also provide a number of video tutorials. The tool is also helpful for traditional cartoon creation, as well as the maintenance of vector and bitmap drawings.
6. Houdini
Houdini is a well-known 3D animation tool that has been used in a number of animated films, including Rio, and was created by SideFX, a Toronto-based company. The Houdini Best Animation Software for Beginners allows its users to build and produce 3D animated figures, as well as add lighting and dynamics to their scenes.
The majority of major Hollywood animation studios employ industry standard software, including Dreamworks and Pixar. This remarkable motion graphics software/tool has gained unexpected popularity due to its capacity to produce crucial aspects, such as exact projections and particles.
7. Adobe Character Animator
Adobe Character Animator is a powerful program that can let you animate a character quickly and easily. Best Animation Software for Beginners The program's interface appears intuitive at first. Beginners with an interest in and a hunger for the art of making live-action animations and 2D cartoon characters may find this resource valuable.
The only other requirements are a microphone and camera, and either some artwork from Adobe Illustrator or Photoshop, or one of the software's premade puppet templates. Once this is done, you may animate in real time while the program keeps track of your eye and mouth motions. Now that your character has been given life,
8. Cinema 4D
Cinema 4D is a powerful 3D modeling and animation program created by the German firm Maxon. Best Animation Software for Beginners Cinema 4D may centralize the processes involved in creating a video with visual effects, animation, and motion graphics. From movies to games, it's got you covered.
Mograph, included in this top-notch package, simplifies the creation of complex sequences and animations for designers. Cinema 4D's ease of use for newcomers is a pleasant surprise when compared to other animation programs.
9. Synfig Studio
Best Animation Software for Beginners, It's open-source program called Synfig Studio, and it uses vector graphics. This is one of the newest animation programs out there. You may create 2D animations using it. It also lets you make your own characters and adjust the vector visuals whatever you want. Synfig makes it simple to make animated commercials, comics, and other kinds of videos.
10 – CelAction 2D
There is a large community of people that use CelAction 2D because it has contributed to the success of many worthwhile and financially viable endeavors. Best Animation Software for Beginners, Bitmaps and vectors are rigged onto a skeletal frame in CelAction 2D so they may be modified. Additionally, it provides tools for creating professional-grade hand-drawn animations. Not only can you use CelAction 2D to design your animation's textures and models, but you can also bring in assets made in other programs.
CelAction's ability to facilitate the completion of stages of multi-person tasks is one of its most appealing characteristics. Designers with a specialization on animation, for instance, may oversee the modeling process and halt motion and movement.
Final Thoughts
Numerous animation software applications exist because of the wide variety of features, genres, and categories that may be used within the medium. Best Animation Software for Beginners, If you want to choose the greatest one, you should first determine how you'll put it to use, and then then compare its many characteristics.
The greatest ones are in the section above, please read them. On that end, we've written a guide to the best animation software for beginners. If you have any questions or need any help, just use the comment section below.