Every child in India grows up watching and playing cricket. I was also one of them until one day I saw a brown-eyed, beautiful Indian girl moving swiftly around the Tennis court, smashing powerful forehands, perfect backhands, and accurate aces. Her name was Sania Mirza. It was the third round of the 2005 Australian Open and she lost it to Serena Williams, probably the best in the business at that time.
Although Sania Mirza lost the match, she earned a new fan in me. As an 8-year boy who didn't know the ABCs of Tennis, I was fanboyed over her confidence and attitude. And from that day, I've been equally awestruck and spellbound every time I see her on the court. The veteran Tennis player recently announced her retirement from competitive Tennis. She retired as a veteran, however, her journey was certainly more difficult than what meets the eye. In this blog, we've shed light upon the mountains of challenges Sania Mirza climbed to reach the zenith of success.
A 'not so easy' Beginning
If you Google 'Sania Mirza', you will get ample information on her professional prowess, the number of trophies she has won, and all. What you will not find so easily is the grind she went through. Imagine how many eyebrows would have raised when people saw a 17-year-old Indian Muslim girl playing professional Tennis, a less-celebrated sport in the country back then. Sania Mirza started playing the sport when she was 6, but questions started raising when she started playing professionally in 2003.
Sania Mirza faced her first hurdle in 2005 when a group of Muslims issued a 'fatwa' (an official statement or order in Islamic law) against her for wearing a short skirt and hurting the religious sentiments of the community. Calling her a 'corrupting influence', they demanded she wears something more covering. Adding to her harassment, the issue was made a spectacle by the media. Sania, however, was not bogged down by the sexist comments and took a clear stand that it was her choice to wear whatever she wants. Citing her opinion on the controversy, she quoted,
"As long as I'm winning, people should not care whether my skirt is six inches long or six feet long."
The Long Leap
Inspired to prove her mettle and her passion for the sport amidst the controversies, Sania Mirza started winning tournaments and trophies within the next few years. She achieved many 'firsts' in Indian women's Tennis, becoming the first to reach the 3rd round of the Australian Open, the 4th round of the U.S Open, cross the 1 million $US mark in career earnings, as well as win a WTA singles title.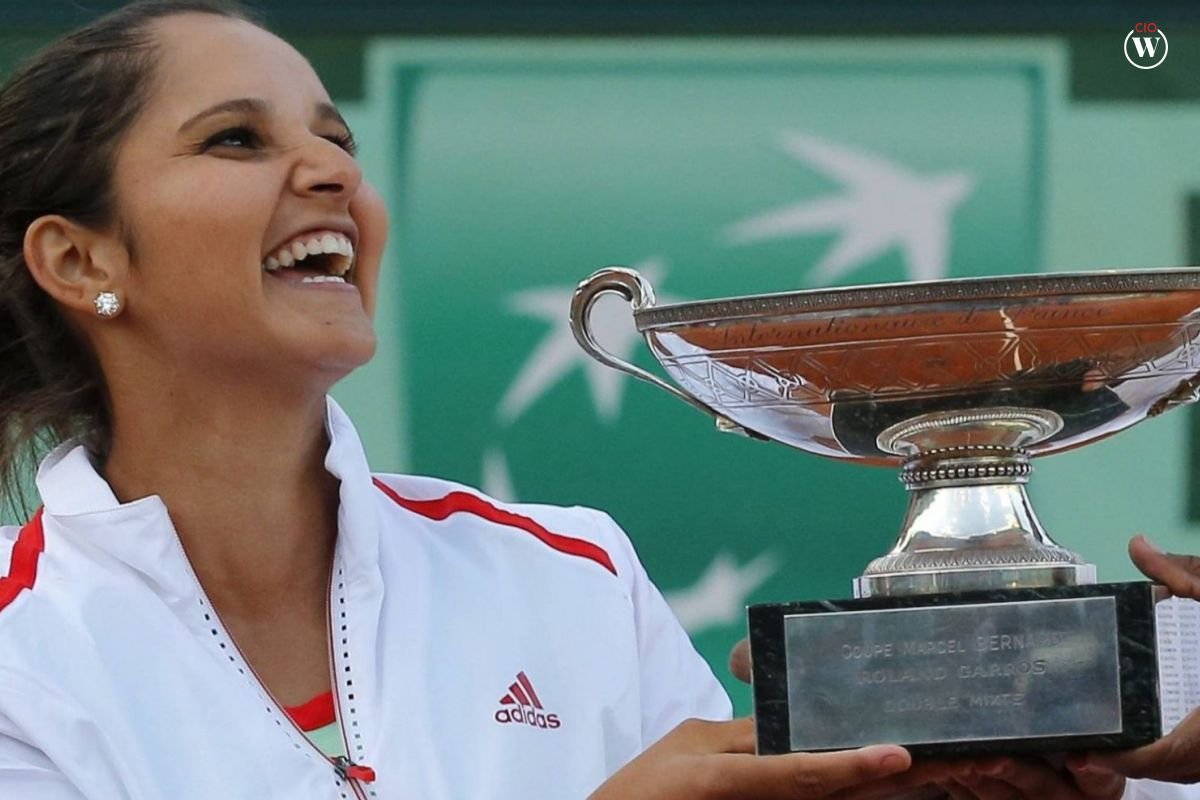 Meanwhile, she defeated the likes of Svetlana Kuznetsova, Vera Zvonareva, Martina Hingis, Dinara Safina, and Victoria Azarenka, the veterans of the game, to make a name in the Tennis circuit. She also became the first and only Indian women's Tennis player to be ranked among the Top 100 in singles. In mid-2007, she became world no.27, her career-best ranking.
"It's not all Sunshine and Rainbows…!"
Despite being on top of her game and career, controversies and challenges kept chasing Sania. In 2007, a minority welfare department filed a complaint against her for shooting inside the Masjid premises. Many activists and locals also showed their outrage by protesting against her.
Not long after this controversy was finished, Sania Mirza got into another wrangle in 2008. While watching a Tennis match in Perth, the 21-year-old put her feet up on a table that held the Indian national flag. She was summoned by a local court for allegedly disrespecting the national flag under the 'Insult to the National Honor' Act. Sania was so taken aback by the flag row that she had even considered quitting the sport. (Thankfully, that didn't happen…). Talking to the reporters at that time, she quoted,
"I think a lot of thoughts went through my head in the last couple of weeks. One of the thoughts was that, but I wouldn't say it was serious enough that I am going to quit right now."
The string of controversies in her personal life was unfortunately accompanied by a flurry of challenges in her professional life. Just as she was starting to get closer to the Top 10 in women's singles, Sania Mirza suffered a major wrist injury. The injury caused her to shift her focus from singles to doubles and mixed doubles, which eventually halted her growth as a world-class women's singles player.
The Relationship Riot
Even though Sania Mirza started excelling in her career as a mixed-doubles player, her relationship with controversies didn't stop. Around 2009, she dated Sohrab Mirza, her childhood friend, and the two were even engaged. However, six months after the engagement, the couple decided to part ways, stating lack of compatibility was the reason behind the separation.
One year later, Sania Mirza again found herself in the headlines when she married Shoaib Malik, a Pakistan cricket player. The marriage was followed by rage amongst Indians who were bold and outspoken against her decision of marrying a Pakistani. This was also given a political angle as K Laxman, one of the BJP leaders in Telangana referred to her as the 'daughter-in-law of Pakistan' as well as questioned her eligibility to be appointed as the brand ambassador of the state.
Adding to the list, in the 2012 Olympics, Indian male tennis players Mahesh Bhupathi and Rohan Bopanna refused to be paired in the doubles event with Leander Paes. Wanting to participate in mixed doubles, Paes demanded to be paired with Sania. However, Sania Mirza wanted to play with Bhupathi as the duo had won two Grand Slams together. She accused the All India Tennis Association of using her as 'bait' to keep Paes happy. The pair of Sania and Paes eventually lost in the quarterfinals of the mixed doubles.
Surviving Storms, Seizing Success
Challenges are a part and parcel of any athlete's life. But when these challenges are accompanied by controversies, it becomes difficult to cope. One thing I admire the most about Sania Mirza is that she confronted every challenge gracefully and let her racket on the Tennis court talk. This is evident from the numerous remarkable achievements in her career. Be it becoming the no.1 ranked doubles player or winning medals at the Asian Games and Commonwealth Games, she has always shut the critiques with her astonishing performances rather than getting into verbal arguments.
From a teenage Indian girl venturing into an undiscovered sports territory to becoming the best Indian woman Tennis player and inspiring a generation of Sania's, her journey is indeed a special one. Even though she has officially announced her retirement from competitive Tennis, we can say we are eager to see her groom and coach aspiring Tennis players who have the potential to become future stars!
Inspiring Quotes by Sania Mirza
Here are some quotes by Sania Mirza to help you on the path toward success.
"As long as you are having fun, I think you are doing the right thing."
"You have to dust yourself off after each painful loss and prepare for the next win, day after day."
"A life without dreams is not worth living."
"No Tennis player is perfect, even if you are #1, I don't think, you still have things to improve on, and I'm not even close to that. So I'm going to have weaknesses in my game; I am going to have strengths in my game, but I still have time to develop a lot of things."
"If I feel I have the ability to achieve something and haven't used my potential to that end, I'll keep trying till I succeed."
"Dreams are the seeds that lead to achievement."
"I'm not a perfect Muslim. I think none of us are perfect human beings. I do the five pillars of Islam, you know, I pray five times a day."
"Extraordinary things happen most routinely."
"I don't play Tennis to prove a point to anyone. I play for my country and myself."
"I have always believed that my job is to try and give my best on the Tennis courts."