Hybrid working is a whole-new working model as well as a mixed schedule that allows employees to work by switching between home and office locations on designated days. In addition to working in the office, they can also choose to work partly at home or remotely from another workspace.
Here Is The Ultimate Guide To Build a Hybrid work From Scratch;
Step 1: Survey employees' needs to Build a Hybrid work
Choosing one's own location and schedule for work has become the norm, allowing individuals to better balance their personal and professional responsibilities. If you want to create a hybrid model that works for your business, it's important to first listen to your workers' wants and requirements.
Including your staff in the process helps develop a model that both eases the transition into new ways of working and inspires workers to give their all. The easiest approach to find out how your workers feel about hybrid employment is to conduct a survey. Some potential inquiries to direct towards staff members are as follows.
After the 2020 pandemic, how would you want your working conditions to be?
If you could choose the number of days you'd want to spend at work, what would it be?
Is there a preferred day of the week on which you like to work?
We need to know how many days a week you plan to be onsite.
Are there times when it's important for the whole team to be together in person?
Is it possible for there to be consequences that are so far off that they won't become close until long after the epidemic has ended?
Do you intend to relocate, or have you already moved?
You have the option of working remotely with your own privacy, or you may join a team and have others look out for you.
When collaborating, how do you usually like to do it?
Would you rather work from home if you had access to an office space closer to your house?
Step 2: Create a better workplace experience
The key to your success and to creating a pleasant workplace is to invest time in developing connections with your coworkers. It's also crucial to often ask for their input on how they're finding the remote work experience. You will get insight into what is working well and where adjustments are needed to better serve your employees.
Spending time and energy on developing connections, fostering workplace happiness, and maintaining order will pay dividends in the long run. Lastly, have patience with yourself and others. In order to create and implement a better workplace, it is necessary to build connections with the people involved in the process step by step.
Step 3: Build a Hybrid work and measure the infrastructure for flexibility
Build a Hybrid work, at its finest, facilitates collaboration by linking off-site and on-site settings. To do this, it is important to invest in technology for the workplace, such as videoconferencing equipment and methods of remote communication. It's time to evaluate your toolkit and figure out whether you're in need of any upgrades or if you can get by with what you already have.
Develop work schedules that allow for some leeway in the face of unpredictable workplace events and yet nonetheless meet the needs of your business. Infinite options exist for addressing this issue. A hybrid discretionary policy, in which workers get to pick and choose the days they come in to the office, is one possible component to Build a Hybrid work paradigm. Managers may have more say over their workers' time off and attendance using a hybrid manager scheduling technique.
Step 4: Improve employee experience
First, Build a Hybrid work style, an office makeover is required to improve workers' satisfaction. The increasing understanding of the importance of collaborative and creative spaces has led to a shift toward more intentional office space use, allowing workers to keep up their output even while away from the office.
And companies have been making great strides to bring back the fun and camaraderie of the workplace, a factor that has been shown to be crucial in the survival and development of a company's culture. That's why it's important to provide enough workspaces for your staff.
Second, a reservation system is essential for managing available space. One of the most important aspects to Build a Hybrid workplace is the availability of different types of workspaces for different tasks. Facilitated by reservation systems, individuals and small groups may choose their own convenient entry time and location inside the workplace. Online reservations are convenient and fast regardless of whether you're doing it a week in advance, at the last minute, from your couch, at your desk, or on the road.
Employees had very little say in their working life on average before to the epidemic. As a result, monitoring employee satisfaction is crucial for establishing a standard of success in a diverse workplace. To Build a Hybrid work Managers in hybrid workplaces need to maintain an ear to the ground for how their staff are feeling and devise mechanisms to adapt to those feelings.
To Build a Hybrid work arrangements need a structure that allows for leeway and backs up people when they need it. The ability to support change in the workplace might be hampered by previous negative experiences. It is the responsibility of businesses to provide workers with functional and secure workplaces that are convenient to go to.
Step 5: Focus on employee well-being and safety
The first order of business once offices reopen is to make sure that policies about social distance and occupancy limits are adhered to and are conveyed to staff. The HR and facilities teams must be able to act swiftly in response to any changes, thus it is essential that the workplace be a regulated environment. Teams should begin making preparations immediately to manage staffing numbers and ensure staff that the workplace is secure.
Know More About Build a Hybrid work: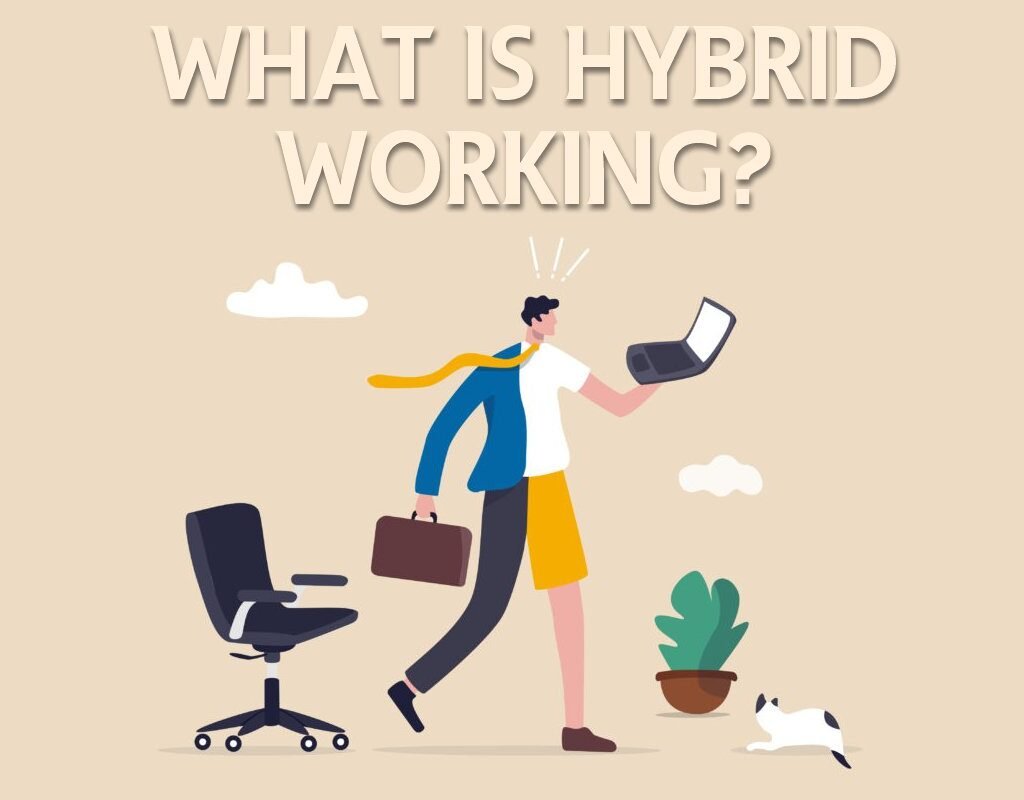 What Is Hybrid Working?
Hybrid work is a flexible approach that allows employees to work at an office, from home, or on the road. It gives employees the freedom to work where and how they want, whenever they want.